Growers to benefit from new secure settlement service
On the back of industry demand for payment security, Clear Grain Exchange (CGX) is now providing their secure settlement service for cash prices published at GrainFlow sites.
This means growers who want to sell to a cash price at the site can do so with the knowledge that they will retain title of their grain until funds have been received in full via CGX's secure settlement.
The independent and secure grain exchange has a proud history of providing secure settlement to growers. Over 6.7 million tonne has traded on CGX equating to more than $1.6 billion in grain payments processed securely since inception.
Now growers can accept a cash price with secure settlement over the weighbridge or transfer to a cash price from warehouse by simply looking for 'CLEAR Settle' next to a buyers cash price (ie. 'Arrow CLEAR Settle' refer image).
Any grain sales made to a cash price with 'CLEAR Settle' next to it will be settled by CGX's secure settlement facility so you won't lose title of your grain until paid.
The secure settlement service is available for all buyers to use to help give growers comfort over payment.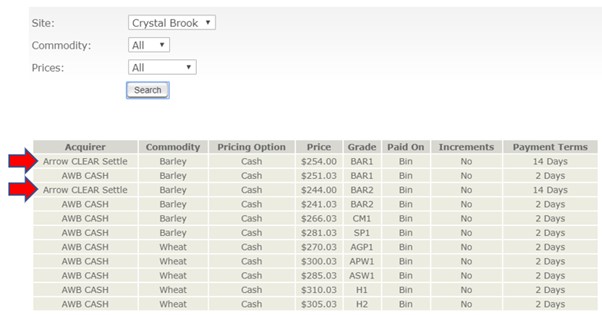 To view the daily grain prices for your GrainFlow site, click here
For more information please call 1800 000 410 or visit cleargrain.com.au
Media Contact: [email protected]